IT Consulting
Affordable IT Consultant services and IT Outsourcing for businesses throughout the world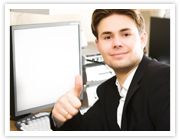 Is Your Technology Creating More Financial Problems Than It Solves? "Why am I paying all this money for IT that's always broken?" We've all thought it.
IT Outsourcing and Virtual CIO (Chief Information Officer) solutions from EOL Support LLC mean you can finally boost your bottom line with technology.
With a tailor-made IT Consulting plan from the experts at EOL Support LLC, you get:
An investment for the long-term success of your company, with an IT Overview to determine your most cost-effective technology solution.
Flat-rate consulting services and solutions, including your Technology Installation.
A single point of contact for all your IT requirements, with IT Regulation for better security and productivity.


Stop throwing money away on technology that
doesn't give anything back to your business.

EOL Support LLC provides Virtual CIO services that let you see your technology as an asset, instead of a drain on your budget. We provide IT Consulting Services that ensure your IT is as efficient as possible.
Whether you need small business server consulting, network consulting, computer security consultants, Virtual CIO (Chief Information Officer) service, IT Outsourcing, IT consulting services, outsourced IT, technical support, or IT outsourcing services, we can help you take care of it.
Our consultants have the expertise to turn your technology expenses into a long-term investment. Find out how the advice of an expert IT Consultant can change your business forever.